Product Overview
Soothe & Relaxx™
All-In-One Joint, Soft Tissue & Muscle Support
Soothe & Relaxx™ combines soft tissue, joint and muscle support with the proprietary Relaxx™ Complex to calm the mind.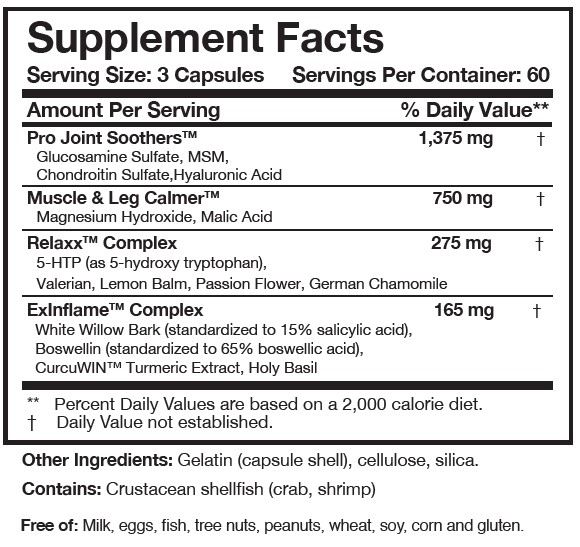 GMO-free
Suggested Use: As a dietary supplement, take three capsules twice daily with or without meals or as directed by your health care professional.
Cautions:
5-HTP should not be taken with prescription antidepressants such as MAO inhibitors and SSRI's or with Parkinson's medications.
White Willow Bark, the active ingredient in aspirin, should not be taken with blood thinning medications or potassium sparing diuretics.
Product contain Sulfates, should not take if allergic to Sulfa
If pregnant or nursing, consult your health care professional before use.
If You Are Interested In Purchasing Other Researched Nutritionals Exclusive Professional Formulas Not Featured On Our Website Please Call 703-359-2842 & Request Our Staff Make Them Available To You
Statements on This Web Page Have Not Been Evaluated By the Food and Drug Administration (FDA)
This Product Is Not Intended To Diagnose, Treat, Cure, or Prevent Any Disease or Disorder
Discuss With Your Health Care Provider What Supplements You Are Taking
The Buyer Assumes Responsibility & Risk for Any Products Purchased & Consumed From Innovative Vitality
Reviews