Product Overview
Purest Artemisinin plus support for the body's inflammation & anti-parasitic systems
Artemisinin SOD™ combines pure artemisinin for immune support, green tea extract to promote healthy levels of SOD (superoxide dismutase), curcumin and quercetin for their healthy impact on inflammation and resulting inhibitory affect on NF kappa B, and black walnut hull to arm the body's anti-parasitic arsenal.
CurcuWIN™ combines curcumin with a hydrophilic (allowing it to disperse in water) carrier, using the UltraSOL™ molecular dispersion technology. UltraSOL converts lipophilic (fat loving or fat absorbing) nutrients into water- dispersible ingredients, the key to the published clinical research showing superior bioavailability versus any other form of curcumin.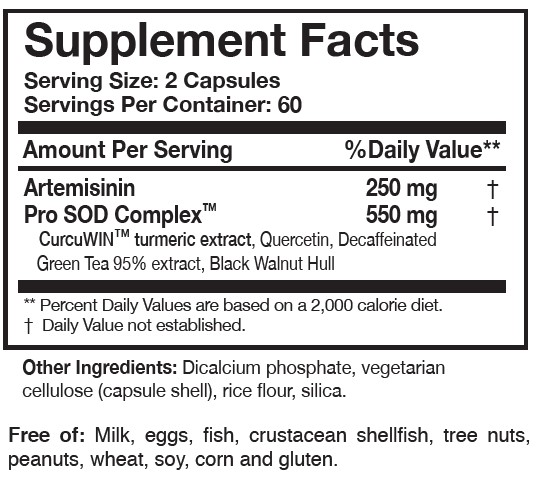 Vegan
GMO-free
Suggested Use: As a dietary supplement, adults take 1 or 2 capsules one or two times daily, away from food and iron or as directed by your health care professional.
Caution: Not indicated for pregnant or nursing women. Long term administration (greater than one month) should be monitored by health care professional and include liver enzymes and hemoglobin testing. Detoxification reactions may be experienced by some individuals.
If You Are Interested In Purchasing Other Researched Nutritionals Exclusive Professional Formulas Not Featured On Our Website Please Call 703-359-2842 & Request Our Staff Make Them Available To You
Statements on This Web Page Have Not Been Evaluated By the Food and Drug Administration (FDA)
This Product Is Not Intended To Diagnose, Treat, Cure, or Prevent Any Disease or Disorder
Discuss With Your Health Care Provider What Supplements You Are Taking
The Buyer Assumes Responsibility & Risk for Any Products Purchased & Consumed From Innovative Vitality
Consider A Telehealth Visit With an Innovative Vitality Health Care Professional To Assist You In Choosing The Best Products Or Supplement(s) To Address Your Symptom Concerns & To Gain Access To Restricted Supplements. Please Call 703 – 359 – 2842 to Set Up A Telehealth Visit
Reviews